As part of our Spring '22 release RideAmigos introduced a new Commuter Insights survey template that includes a comprehensive suite of built-in analytics and reporting.
Survey Details
The Commuter Insights survey takes advantage of the latest RideAmigos survey tools to create a streamlined experience for survey respondents and meaningful data for program managers.
We follow an industry-standard pattern of asking a commuter to share information about their commutes during a specific representative survey week.
Best Practices for Running A Commuter Survey
You can add additional questions or update descriptions after you create your survey, though it is recommended that you not remove any questions pertaining to commute days, modes, distances, etc. as these are used for calculated reports.
The template is pre-configured to collect name and email information by default. These questions can safely be removed or made optional if your use case requires doing so.
Capturing Usual Patterns

Respondents are first asked to share their usual commute patterns, which are then used to pre-fill initial responses for each day of the week. This also provides valuable data to compare users' usual patterns with their reported behavior for the survey week.
Commute Modes
Your survey will reflect the commute modes available for logging on your RideAmigos platform. This leverages our system's built-in settings for mode-specific calculations. If you are a platform owner and have a need to use different modes for your commuter survey please submit a ticket to the helpdesk.
If a user indicates they carpooled or vanpooled they will be asked to share how many total people rode in the vehicle.
Miles to Worksite
This survey is designed to be distributed to all commuters that work from a specific site, so users are expected to know their approximate travel distance to their worksite. When used in this context, generally employees that are 100% remote are not surveyed, since their telecommutes do not replace vehicle trips to the worksite.
This survey can also be used in other contexts where measuring Average Vehicle Ridership (AVR) to a specific worksite is not a primary goal. In such cases, fully-remote workers asked to complete the survey should be instructed to enter zero for their miles to worksite.
Daily Responses
Each daily response is pre-populated based on the respondent's usual pattern, which they can update to reflect their commutes during the actual survey week. For each day the user is first asked to confirm if they worked or not, with appropriate follow-ups for each scenario.
Work Days
Each day a user indicates they worked they're asked to confirm if their commute followed their usual pattern or update the record to reflect how they actually commuted that day.
Non-Work Days

On days a respondent didn't work they're asked why they didn't work. This provides important information on evaluating how closely your survey week represents a typical work week.
Respondents can also indicate they did not work because of working a compressed workweek schedule, which is valuable information because such days off count towards improving average vehicle ridership.
Mode Exposure
The final question of the survey asks for all the modes a respondent has used as any part of their commute in the last 3 months.

This provides program managers a clearer picture of what transportation modes are relevant to their commuters, capturing information on additional modes that may be used less frequently or as first/last-mile solutions.
Reporting
Surveys created using the Commuter Insights survey benefit from an all-new reporting interface designed to make understanding commute patterns easier than ever.
From the Surveys page within your network's management dashboard, use the row action tool to select View Responses then select the Report tab. If you've viewed your report while responses are still being accepted you may be prompted to update your report based on the latest responses.
Main concepts
Arrivals and Departures - When are users arriving and leaving your worksite? This data provides insights into on-site vehicle traffic and the commute patterns of users of all different modes.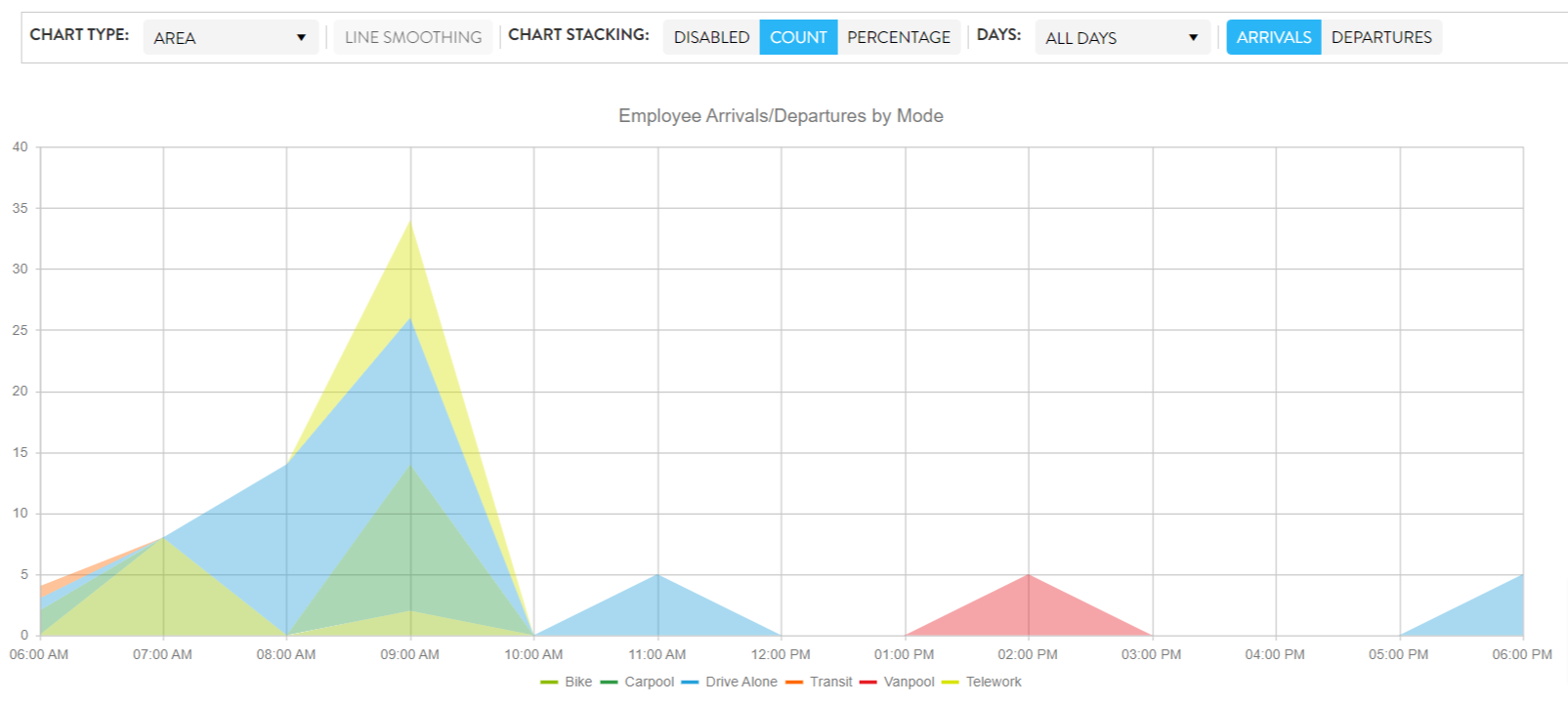 Use different chart types and settings to visualize arrival and departure patterns in different ways. Individual modes can be enabled or disabled by clicking on their labels below the graph.
Commutes by Mode - How many users are commuting using each mode during your survey week and on particular days? Compare the proportions of the number of trips for each mode to the proportion each mode represents of total commute mileage.
Mode Utilization - How much are you commuters using each mode and how many of your users have made use of each mode? This can be helpful for identifying modes that may not lead to a high number of trips or miles but are relevant to a large number of respondents.
Employee Days - This metric is important for understanding how the number of employees working from or assigned to a worksite compares to the number of vehicles traveling to the worksite. Telecommutes and days off due to a compressed workweek are included as "commutes" when calculating Employee Days since they replace drive-alone or other vehicle trips.
Average Vehicle Ridership (AVR) - AVR is an industry-standard metric for understanding and comparing how worksites are contributing to traffic and transportation demand. Higher AVR indicates a more efficiently-commuting workforce. The basic calculation uses the number of employees reported as working in a given period (Employee Days) divided by the number of vehicles arriving during that period. AVR is often calculated for both all-time and peak times - the default reporting settings use 6 AM - 10 AM Monday - Friday as the peak arrival period.
Pool Occupancy - How many people are in each carpool or vanpool? Understanding pool occupancy can identify opportunities for optimizing carpool and vanpool initiatives.
Usual Commutes - Since we're surveying for both usual commute patterns and results for a specific week we can compare these datasets to determine the variance between usual and actual. Of particular interest for determining how closely your survey represents a typical week is to see if there are days in the week where many people said they usually commute but did not.