Navigation: Manage > Management Dashboard > My Networks
Click on the network you would like to manage to access the network overview page.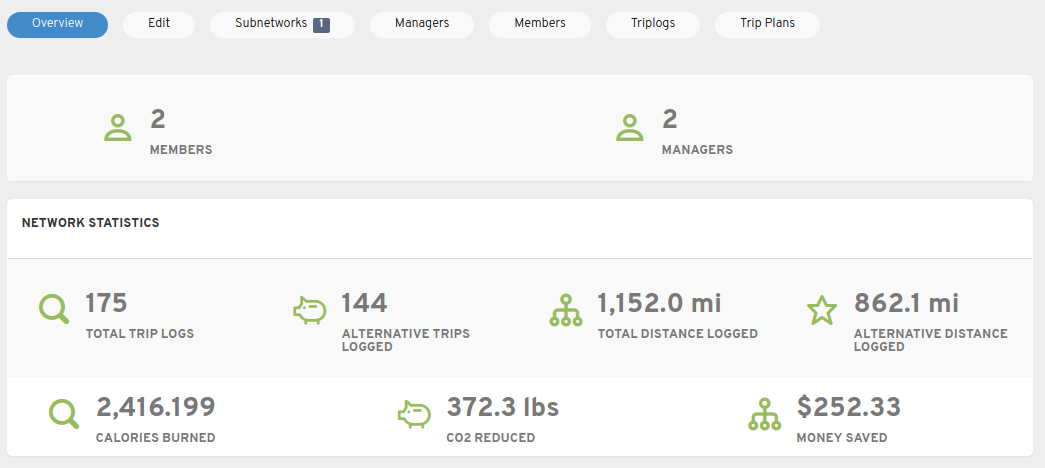 From the network overview screen, administrators and network managers can quickly see the number of members and managers in a network and the cumulative impact stats of trips associated with the network.
Edit Network Details
Administrators and managers can modify a network's details via the 'Edit' tab.
Name: Required
Type: Required. Used for categorizing networks in reports and other contexts.
Organization / Company Size: Used for reference in reporting and other contexts.
Public or Private: Public networks can be searched for and joined by anyone. Private networks are invite-only – users can join via a manager-provided join link or can be added manually by a system administrator.
Tags: Used for advanced categorization, sorting, and reporting.
Location: Geographical or mailing address information associated with this network
Auto-Join by Email Domain: Automatically add newly-created users with specific email domains to your network. Read more.
Shareable Join URL: Can be provided to users to provide them with a landing page for joining your network, containing additional information from the fields below. Particularly useful for private networks.
Description: Displayed to all visitors entering from the network URL above.
Message to non-members before joining: Displayed to visitors using the network join URL who are not currently a member of the network.
Message to current members: Displayed to visitors to the network join URL who are already members of the network.
Subnetworks
The 'Subnetworks' tab displays all subnetworks of the current network, provides the ability to quickly copy each subnetwork's Join URL and allows you to remove the network from the system. To view or edit a subnetwork, click its name.
Managers
The 'Managers' tab lists all users currently granted network manager status for this network. From here, managers can easily be added or removed. Read more.
Members
The 'Members' tab displays a basic, searchable report of all users in this network. Results can be filtered by first or last name or email address. The Advanced Reporting link provides a route to a more in-depth, fully-filterable view of network members. System administrators can also add new members from this tab. Read more.
Triplogs
The 'Triplogs' tab displays a basic report of all triplogs associated with this network. By default, only trips logged after a member joins a network are associated with that network. You may manually apply trips a user has taken before joining the network by clicking the view button for that member in the Members tab.

Some special circumstances may require logging trips associated with a network that are not associated with any particular user. To log such trips, click the "Log network trips" button for instructions and the logging form.
Advanced, fully-filterable reporting on network triplogs is also available via the associated link.
Trip Plans
The 'Trip Plans' tab displays saved/favorite trips associated with the users within your network. Use the map or card views to find more details on particular trips.