Site Administrators: Manage > Tools > Admin Dashboard > Users
From the user management area you can easily search for users, review their basic stats, create, edit, and delete users.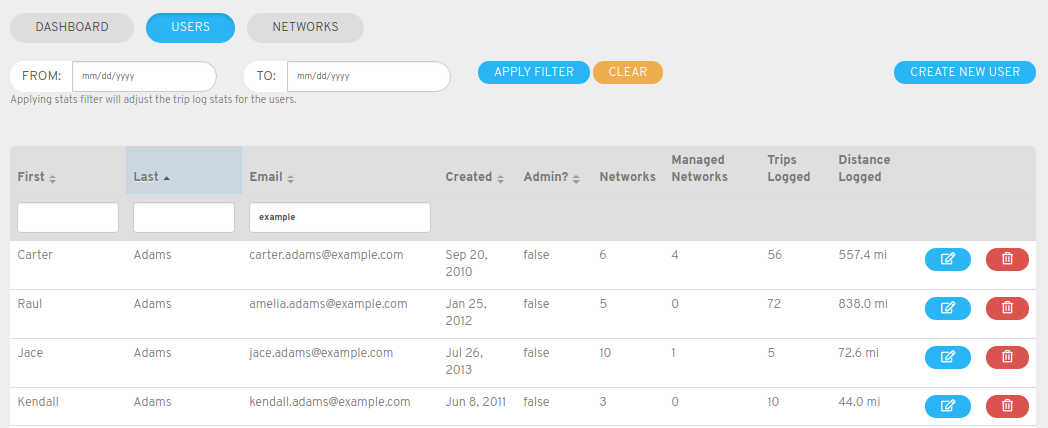 Create a New User
To manually create a new user, begin by clicking the "Create New User" button.
The new user form typically requires a minimum of first name, last name, and a unique email address to save the new user. Depending on your platform's configuration, other fields may also be required.
If required fields are left blank, the "Create User" button will be dimmed and unavailable. Areas requiring completion will appear with a yellow ! icon in the corresponding guide area.

Enter all of the required and desired information for the new user and click "Create User." Once the user is created you'll be taken to their edit user screen.
Bonus Tip: Even if your organization uses domain restriction or single sign-on for user registration, you can still manually create a user with any email address. This is often useful for creating test users.
View / Edit a User
The edit user screen is an important resource when managing user data and troubleshooting issues such as programs not appearing, trip search options, etc.
To view or edit an existing user, begin by searching for them via first name, last name, and/or email address from the user management area of the admin dashboard. Once you have located the user you want, click the blue edit icon on the right.
The edit user interface is substantially similar to the new user form, allowing you to review and revise information associated with the user's account. Administrators can edit these fields as needed. Remember to click "Update User" to save changes before navigating to another page.
If a user has a question or concern related to the commute options between their work and home addresses, you can quickly review their options by clicking the "View User's Trip Plan Options" button. (This requires that their home and work address are saved in their profile.)
User Details
The user details tab allows administrators to review and manage additional information related to a specific user, such as how and when the user was created, when their information was last updated, and when they last logged in.
Additionally, the User Details pane provides a one-stop location to control a user's network associations and management permissions, vanpool memberships, and saved / favorite trips.
Often, if a user expresses a concern that a program they should be eligible for is not appearing, it is because they are not a member of the required network for that program. This screen is the best place to check for and resolve such issues.
To quickly add the user to a new network, search for and choose the desired network from the drop-down menu in the User Networks area.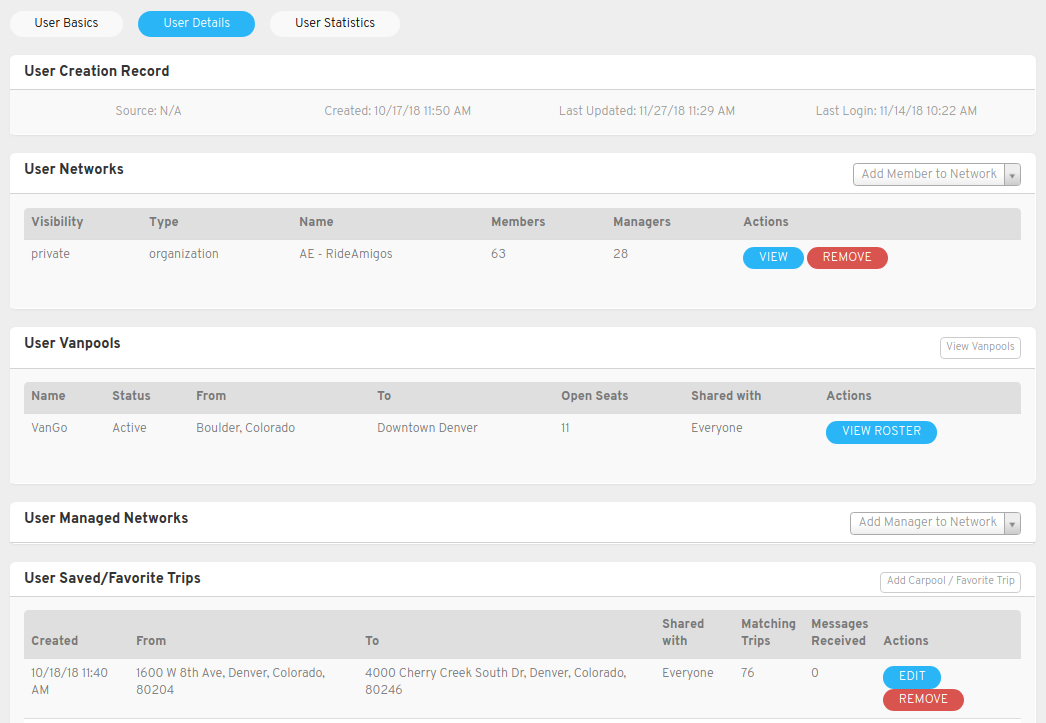 User Statistics
The User Statistics tab allows administrators to review the individual user's impact statistics such as number of trips and distance logged, carpool messages sent and received, calories burned, and CO2 & money saved. This screen also provides an easy interface for reviewing a user's logged trips.