Looking for a carpool partner for a one-time trip? Check out your local rideboard to see if anyone is planning a similar trip, or post your trip for others to find.
Accessing the Rideboard
If your RideAmigos site has enabled a rideboard, you'll have a link in your navigation menu or a rideboard widget on your dashboard: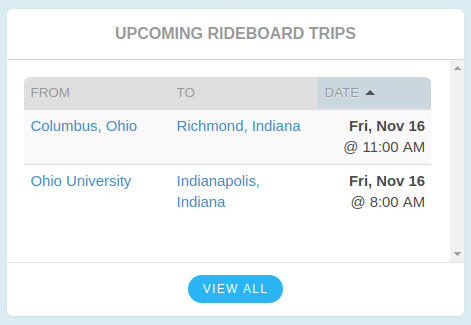 Click through and you'll be greeted with a list of one-time rideboard trips posted by other users.
Filtering Results
The initial rideboard view will display all posted trips scheduled to start after the current date and time. You can use the filtering tools to narrow down your results.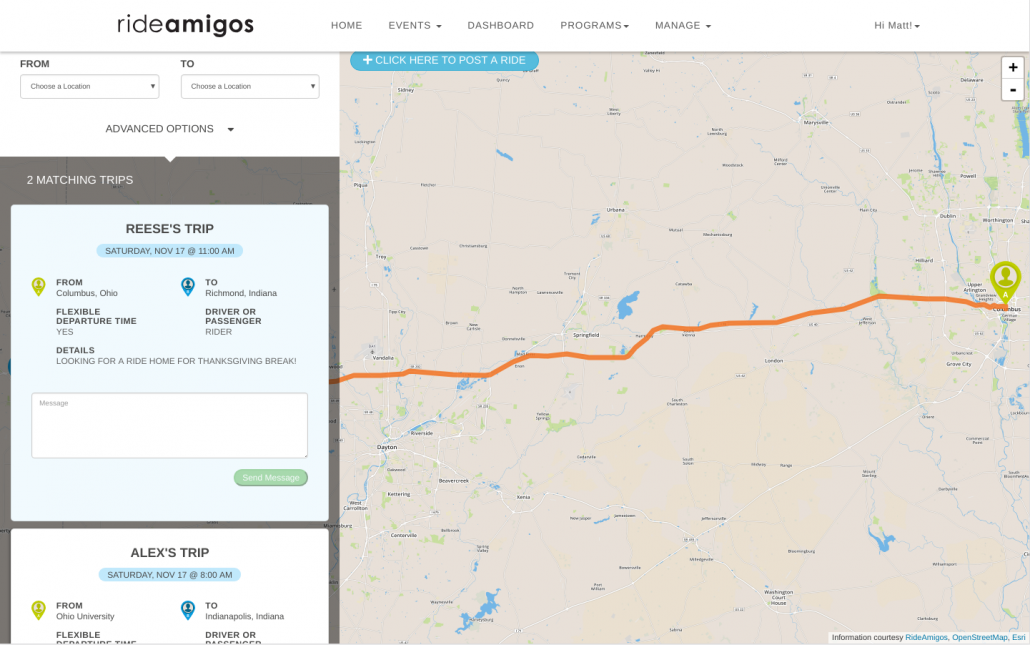 Use the "From" and "To" drop-down menus to review all of the origins and destinations of other rideboard posts.
Choose an origin or destination to filter display results. By default, you will see all trips that start or end within 10 miles of the locations chosen.
Click "Advanced Options" to further filter dates and search radii.
Reviewing Options
After you have filtered your results, select trip cards in the left column to preview them on the map.
Alternately, you can select origin or destination pins on the map and select the corresponding trip from the results column.
Sending Messages
If you find a trip that's a good match, you can initiate a conversation with the trip owner by sending them a message. Just type a note in their trip card, click "Send Message", and they will receive your message via email.
Posting a Ride
If you're planning a one-time trip you're interested in sharing and you aren't able to find someone who has already posted a ride, you can post your own.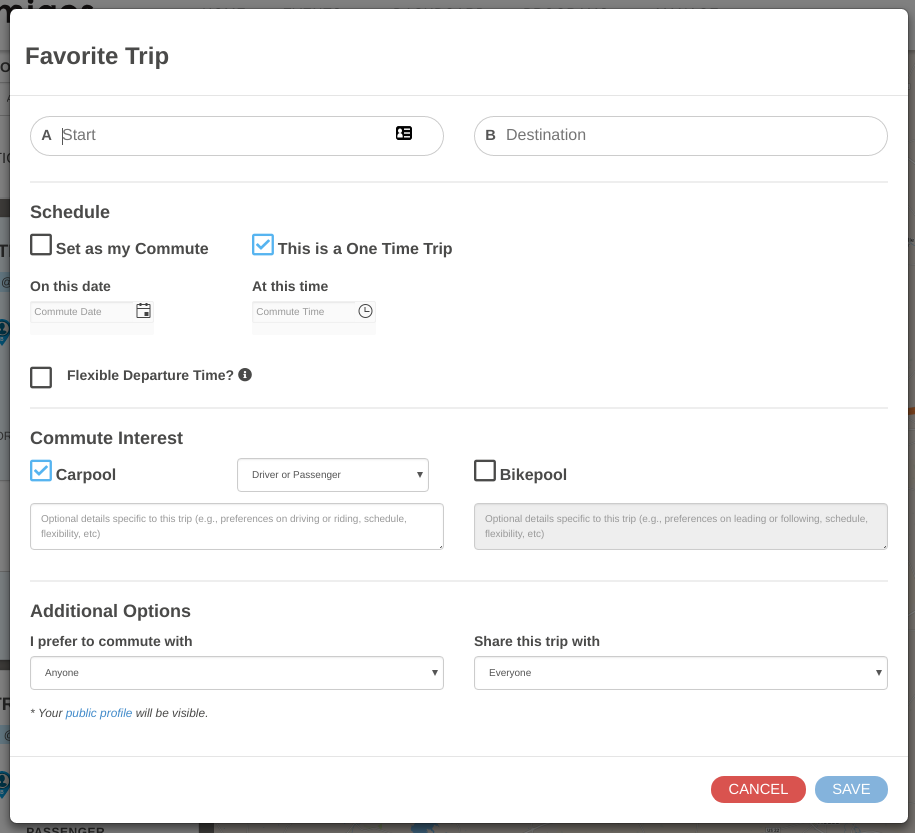 Start by clicking the "Post a Ride" button and entering your start, destination, and departure time information. Save your trip, and it will be visible to others searching the Rideboard for one-time trip partners. To edit your trip, go to the My Commute widget on your user dashboard, select the trip you wish to edit, then click the "Edit This Commute" button.

Important Considerations
After posting your one-time trip, it will not appear in your rideboard listings – you will only see trips posted by others that you might want to join.
Also, once a trip's date has passed, it will no longer be visible on the rideboard. If needed, you can follow the instructions above to edit your trip and change the date to make it visible again.